Testimonials
Reviewed my American Citizenship Meaning Maker on tax day after I dropped my payment at the post office. Along with a stiff Bourbon on the rocks it was good therapy for the financial sucking sound in my head.
Jill
Monday, April 18, 2016 at 06:24:31 (EDT)
---
I downloaded all ten last week and have completed six. These take a long time to do. They make my head spin in a good way.
Angus
Friday, December 11, 2015 at 11:23:59 (CDT)
---
If it wasn't so sad, I'd laugh at the fact that many professors at my college still wear bow ties and don't use email. Higher Education edition was like a critique on my decision what college I'm attending. Now enlightened.
Damon
Wednesday, August 5, 2015 at 02:21:02 (EDT)
---
Your Food edition made us laugh, belch and fart. What fun. Considering lifestyle changes but we love MEAT.
Misty
Friday, April 17, 2015 at 06:45:10 (PDT)
---
Our favs are "Control" and "Periodic Personal Evaluation". My therapist pointed me to you and wow, what an eye opener regarding mindfulness and personal growth. Please do one about body image. Will check back soon.
Claire & Tony
Thursday, March 13, 2014 at 9:15:07 (CDT)
---

My husband just visited obama headquarters in Menlo Park, California. Here's proof of our civic engagement, even though we are still on the fence candidate wise. Thanks for the inspiration.
Meg
Saturday, September 8, 2012 at 15:31:02 (MST)
---
Reading this makes my decisions easier than taking candy from a baby.
Karcy
Saturday, November 5, 2011 at 07:13:55 (MST)
---
We are using Meaning Maker Academic Conference Edition as a tool for better understanding hosting events here at our hotel. We discovered the blue brochure when cleaning up after a recent event. Don't know how it got here but we love it.
The Chicago Hilton Staff
Monday, February 21, 2011 at 12:38:24 (MST)
---
The family gathering edition had us in stitches and allowed my sisters and I patience and tolerance with the intolerant ones in our tribe. BIG THANKS.
Jim
Sunday, April 18, 2010 at 22:06:01 (MST)
---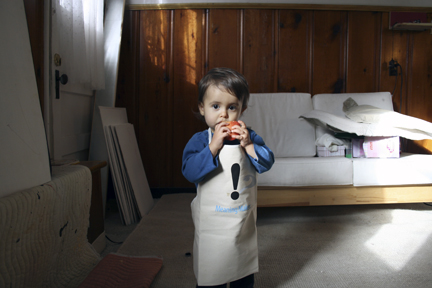 Here's a photo of my daughter wearing her meaning maker apron which I won at the Corporate Art exhibition in San Francisco.
J.A from Brooklyn N.Y.
Saturday, May 16, 2009 at 19:33:27 (MST)
---
We like to present projects that engage our community of students, faculty and staff, as well as the broader community. This would be perfect!!
Richard F. Brush Art Gallery at St. Lawrence University
Wednesday, April 1, 2009 at 14:33:29 (MST)
---
In today's environment Meaning Maker is a much needed exercize.
Imagine a world in which people actually took the time to self-reflect, and were given encouragement to have a laugh at themselves in the process.
Thank you Meaning Maker!
a fan
Sunday, April 20, 2008 at 10:07:13 (MST)
---
Meaning Maker made me think.
student
Monday, March 10, 2008 at 19:41:58 (MST)
---
Hey,
I finally got to look through your materials last night: thank you for the limited edition!
Your concept is excellent, and I especially enjoyed the American Citizenship Edition.
I look forward to improving myself over the coming days, as I explore my ability to check boxes.
Stay in touch,
Stuart
we are war | dept8[AT]greatleapforward.com
Saturday, March 31, 2007 at 14:35:02 (MST)
---
WOW Meaning Maker! We came across you at Works. You cracked us up!
Terry
Wednesday, August 16, 2006 at 13:59:16 (MDT)
---
A group of fellow grad students and I were each handed Meaning Maker pamphlets while leaving an exhibition of tired old hacks (oops, I mean "professionals") in the incestuous print world, who have apparently been repeating the same themes in their work for at least ten years now. Perhaps we were spotted as a disenchanted lot, who wish to resist this bleak and burned-out fate to someday become our own. Enter Meaning Maker-- the highlight of the whole freakin' SGC conference!
Rebel
Saturday, May 13, 2006 at 13:00:09 (MDT)
---
Meaning Maker blows all recent art I've experienced out of the water. Art in brochure form?, what a hoot you folks are. It's like a judgment test. We've never applied ourselves to an artwork so in-depthly. Thanks for helping reveal things we didn't previously contemplate.
James
Friday, April 28, 2006 at 23:07:14 (MDT)
---
I am so excited to have a signed edition of Meaning Maker from the Southern Graphics Print Conference! I love the tacky blue pamphlet of this contemporary print project AND the smart assessment of the conference experience it critiques. Thank You Meaning Maker!
Lily
Saturday, April 17, 2006 at 11:25:48 (MDT)
---
what is this site / company / collection for and of?

I am doing research for an art project on meaning and production there of,
please respond to:
jk@onair.co.za
Johan
Monday, April 15, 2006 at 14:15:21 (MDT)